Fresh from a successful third annual festival in the Spring, The Art of Brooklyn Film Festival (AoBFF) surrenders the reigns to some of the best film curators in Brooklyn for the summer.
The Big Screen is a month-long celebration of Brooklyn's best independent film series, which usually screen in intimate venues throughout the borough. From August 4 – 25, 2013 at St. Francis College's Founders Hall and Maroney Theaters Brooklyn's best independent film series move out of the back rooms and onto The Big Screen.
Find Tickets & More Information for ALL SCREENINGS – HERE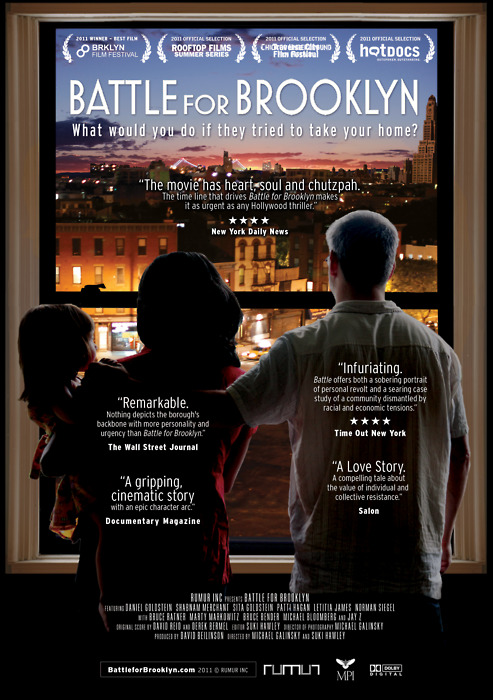 Sunday, August 4th, 2013
Presented by Heather Freudenthal  (Sunday Film Series)  
BATTLE FOR BROOKLYN
BATTLE FOR BROOKLYN follows the story of reluctant activist Daniel Goldstein as he struggles to save his home and community from being demolished to make way for a professional basketball arena and the densest real estate development in U.S. history. Along the way, he falls in love, gets married and starts a family while living in a vacated building located at the heart of the project site. Over the course of seven years, Daniel spearheads the movement against the development plan as he and the community fight tenaciously in the courts, the streets, and the media to stop the abuse of eminent domain and reveal the corruption at the heart of the plan.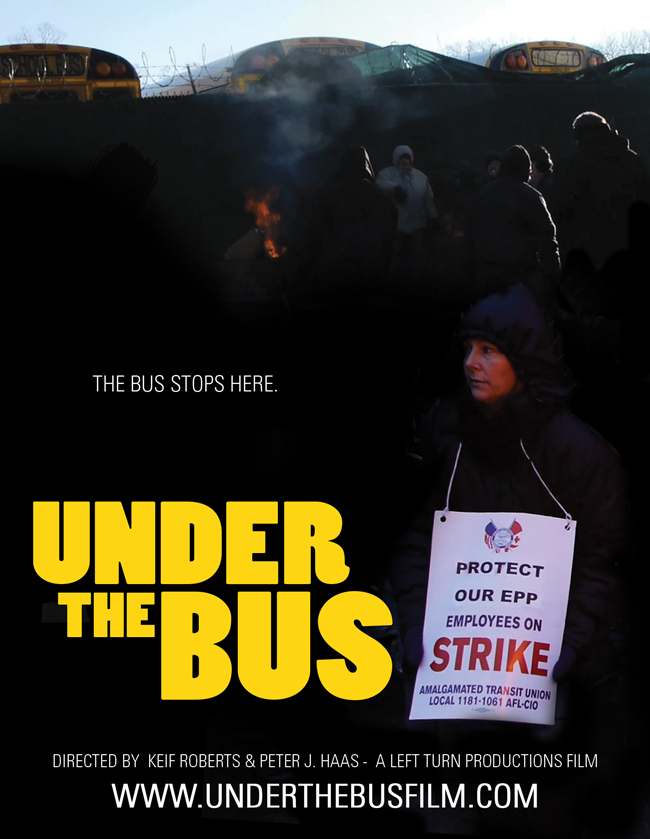 Saturday, August 17th 
Presented by Heather Freudenthal (Sunday Film Series)
UNDER THE BUS
Anthony has driven a school bus in Staten Island, New York for twenty-four years. His plans to retire suddenly grind to a halt when the Union (ATU 1181) goes on strike in response to a contract dispute with the City of New York.  The film follows Anthony and his fellow drivers to the picket line, where they find themselves battling harsh winter weather, a media blackout, Union politics and a Mayor who refuses to negotiate. When the City puts Anthony and the driver's jobs out to bid, a tense atmosphere erupts as non-union 'replacement drivers' start crossing the picket lines.
The striking workers, who receive only $150 a week are forced to take stock of their own lives.   Anthony worries he might have to delay his retirement.  Donna, a matron, and her daughter are forced to move out of their apartment due to financial difficulty.  Albert, a driver from Howard Beach who lost his home in Hurricane Sandy, depends on his full time employment to survive while he deals with insurance companies and FEMA. As the strike drags on, many workers fear they will have to leave their Unionized jobs in order to support their families.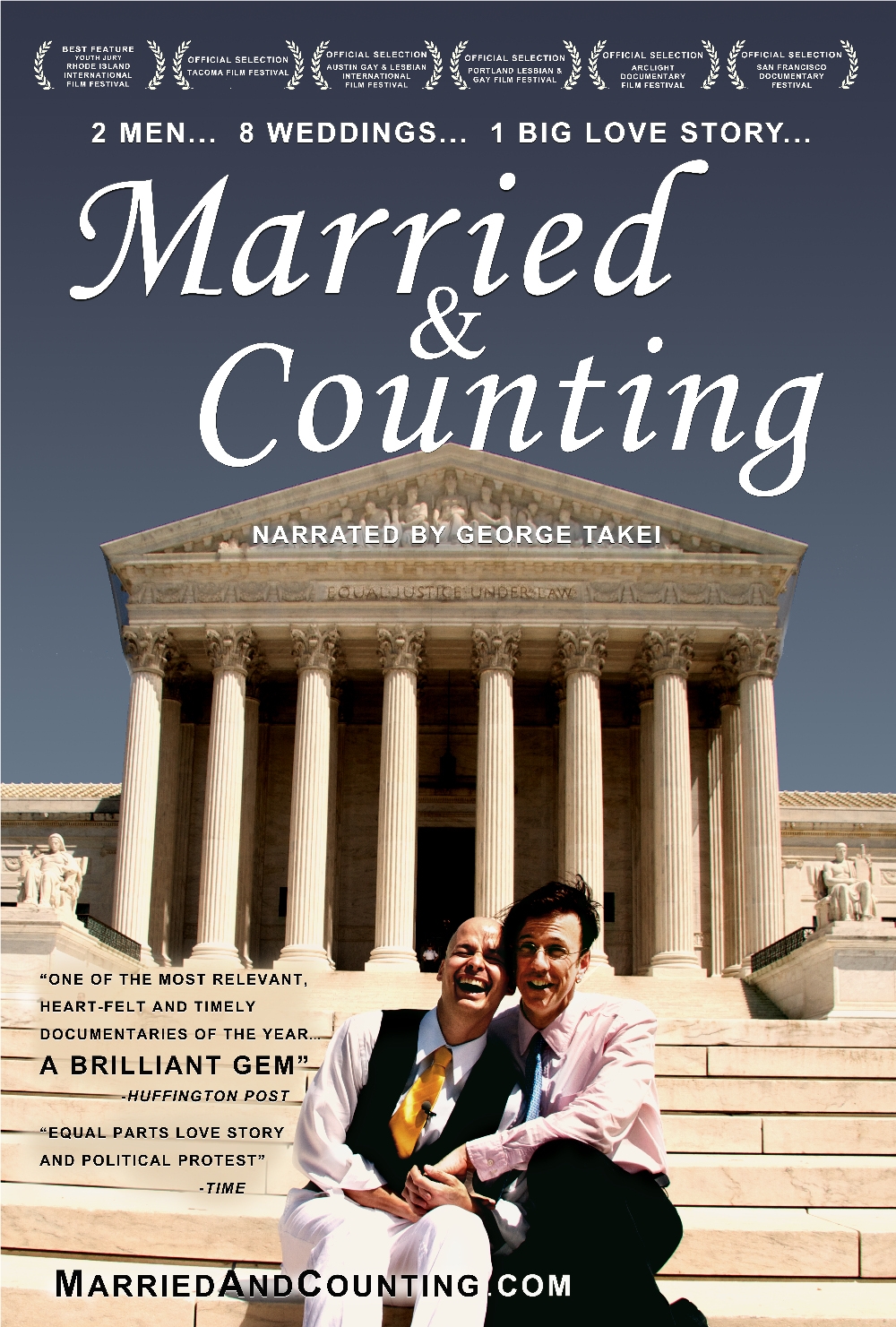 Sunday August 18th
Presented by Heather Freudenthal (Sunday Film Series)  
MARRIED & COUNTING
Two men celebrate twenty-five years together by taking off on a "slightly zany… cross-country adventure" (The New York Times) to marry in every state that will let them. Along the way they find acceptance from strangers, rejection from loved ones, and discover that no distance is too far to go to declare that their marriage counts.
Friday, August 23rd
Presented by Andrew Greer (Infinity Ball Productions)
A SMORGASBORD OF SHORTS!  WORLD PREMIERE
Pig out with a variety of cinematic tastes ranging from comedy to drama, action to romance, contemporary and classic movies. Featuring the best films from Infinity Ball Productions' 72-Hour Film Festival as well as past and present members of the Infinity Ball Production team. Take all you want, but eat all you take!
Featuring Films by
Andrew Greer was born and raised in Brooklyn, NY.  Andrew graduated from Emerson College with a BFA in Acting.  Since graduating Andrew has participated in many New York City theatre and film festivals. Currently Andrew works at The Alchemical Theatre Laboratory. Andrew is also writing his first YA Novel, Dragon Slayers Genesis, which will be released in the fall of 2013.  Visit his website:TheTroupeTheatre.com
Jared Silver is an animator, VFX artist, and web designer who also dabbles in the dark arts of the theater. He can be visited online at jaredmsilver.com.
Louie Tremblay was born in the hills of Maine where he climbed trees and caught turtles. When he moved to Brooklyn he didn't know what to do with himself anymore, so he co-founded Infinity Ball Productions with some of his chums.
Robbie Yulfo is a Brooklyn-born artist, animator and filmmaker.  Robbie also works for the Audio/Visual department at Brooklyn Borough Hall.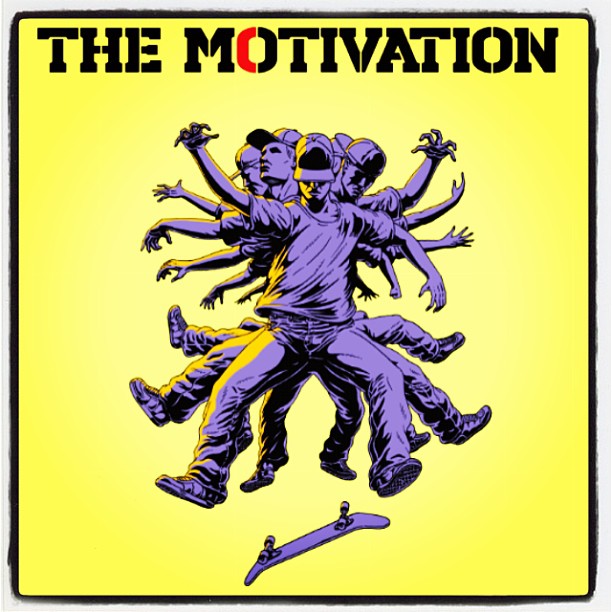 Saturday August 24th
Presented by Adam Schartoff  (Filmwax)
THE MOTIVATION – EAST COAST PREMIERE
Eight of the world's best pro-skateboarders prepare for the upcoming Street League Championship in NYC. Each equally talented, they all must overcome unique challenges – family pressures, injuries, money, fame and their own internal struggles – for a chance to win $200,000 and the title of best street-skateboarder in the world. The Motivation is a non-fiction sports film from internationally acclaimed filmmaker Adam Bhala Lough (The Carter, Bomb the System) featuring the biggest names in professional skateboarding today.
Read Our Interview with 'The Motivation' Director Adam Bhala Lough & Subject Nyjah Huston – HERE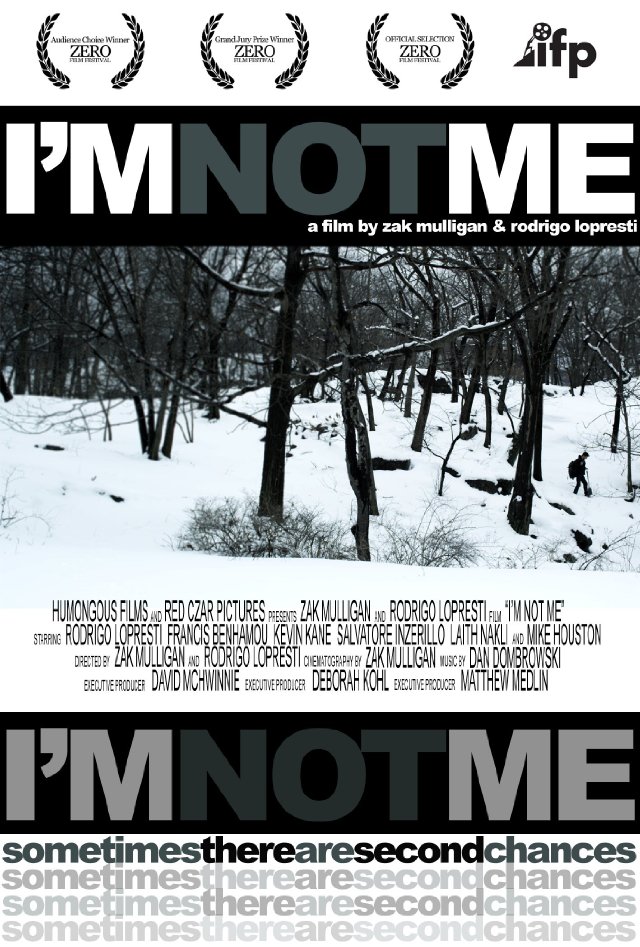 Sunday, August 25th
Presented by Heather Freudenthal (Sunday Film Series)
i'm not me
As Josh struggles with the death of his wife Sam, his grief begins to manifest itself in haunting and strange ways. When Josh comes face to face with his dead wife who is somehow alive and well, he slowly realizes that his world consists of two divergent realities. As he journeys between the two realms, hopeful of recreating the life he shared with Sam, tragedy ensues.
Sunday, Agust 4 – Sunday, August 25
The Art of Brooklyn Film Festival presents
THE BIG SCREEN
@ St Francis College
180 Remsen St.
Brooklyn, NY
www.aobff.org
Facebook: /AoBFF
Twitter: @TheArtofBklyn